Syphilis in HIV
---
(+) RPR = get FTA-ABS:

If FTA-ABS (+) = Benzathine Penicillin G IM 2.4 million Units once a week x 1
Follow RPR titers at 3, 6, 12 & 24 months


> 1:32 = High risk of Neurosyphilis --> LP

Benzathine Penicillin G IM 2.4 million Units once a week x 3 weeks
Follow RPR titers at 3, 6, 12 & 24 months


If Rash (secondary syphillis) re-appears:

re-treat with Benzathine Penicillin G IM 2.4 million Units week x 3 weeks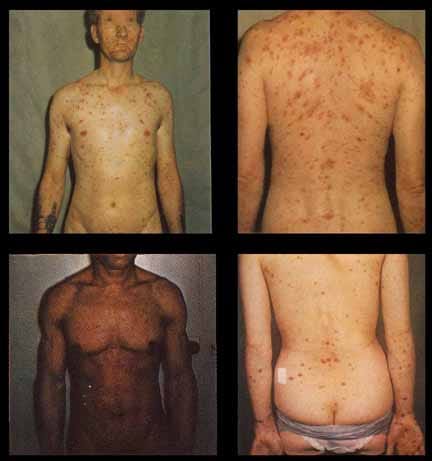 ITE 2013, Q#101.
A 25-year-old male has developed a painless ulcer on the glans of his penis. After an appropriate examination and testing you diagnose primary syphilis and treat him with 2.4 million units of benzathine penicillin intramuscularly in a single dose. Eight hours later, while you are working the evening clinic, he returns because he has a fever of 100.6°F and a bad headache, which he rarely gets. He says he "aches all over."

Which one of the following would be most appropriate at this time?

A) Three blood cultures from different sites at 30-minute intervals
B) CT of the head
C) A lumbar puncture
D) Doxycycline, 100 mg orally twice a day for 14 days
E) Reassurance and antipyretics
ANSWER: E
This patient is experiencing the Jarisch-Herxheimer reaction—an acute, transient, febrile reaction that occurs within the first few hours after treatment for syphilis.

Peaks at 6–8 hours
Disappears within 12–24 hours after therapy.

The temperature elevation is usually low grade, and there is often associated myalgia, headache, and malaise.
It is usually of no clinical significance and may be treated with salicylates in most cases.
The pathogenesis of the reaction is unclear, but it may be due to liberation of antigens from the spirochetes.